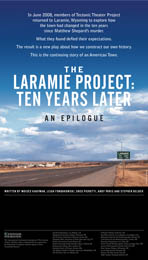 by Moisés Kaufman and Co.

A reader's theater performance.
October 2009, Alaska Territorial Hall

Theatre in the Rough was invited by the nationally renowned Tectonic Theatre Project to present
Juneau's performance of this landmark follow-up to The Laramie Project in partnership with Juneau's own Perseverance Theatre.
The reader's theater-style production was presented free to the public on the anniversary of the events that inspired this amazing body of work.

Perseverance produced the Laramie Project in the spring of 2006. The production's director, Laramie cowriter Leigh Fondakowski, worked with a number
of Theatre in the Rough long-timers on the show and also attended Rebuild Theatre in the Rough -a post-fire TR benefit. Her mentorship and
good wishes for have continued since. TR was honored to join over 100 other theaters across the world for this one-evening event.
Back