With every show, within every staged moment, whether comedy or tragedy, our objective is delight and our mission is to bring
our artists, our audience and our community together in joy. Known for rich costumes, spare sets and great language, we celebrate
the power of imagination and explore a wide range of storytelling forms; dance, music, poetry, masks, and puppets.
Theatre in the Rough is a 501(c)(3) non-profit Shakespeare-enamored theater company in Juneau, Alaska.
Donations to Theatre in the Rough are tax deductible.
Theater in the Rough Shakespeare in Juneau, Alaska.
Coming this Saturday:
Revenge! Deceit! Murder! Titus Andronicus didn't get the nickname of
''Shakespeare's bloodiest play'' for nothing.
Join us for a collaborative reading of this great play,
and for a discussion of decolonization after.
~
Click here for details and tickets
~
Coming Feb 20-28:
In association with Fairbanks Shakespeare Theatre,
Bard-a-thon! Theatre in the Rough will close the Thon
with a reading of The Tempest, with TR's Aaron Elmore
as facilitator, on Sunday, Feb 28 starting at 6:00 PM.
~Schedule and links on the FST website.~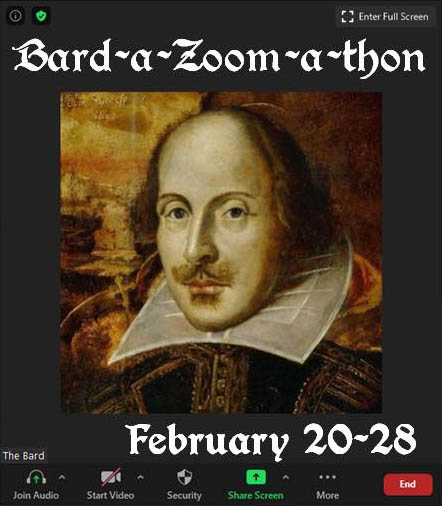 Coming this Summer:
A storm, a shipwreck, an island, a magician.
One of Shakespeare's most amazing plays, The Tempest is full of magic,
humor, fury, strange and wonderful things and the brave new worlds within each of us.
Coming this Fall:
This mysterious detective thriller, set just before WWI,
could be considered a lost classic of the mid-20th-century.
Taking you through twists and turns, this compelling play
exposes how our actions are all intertwined in our one society,
and all our actions have consequences.
Want to be notified when shows are about to open?
Click here