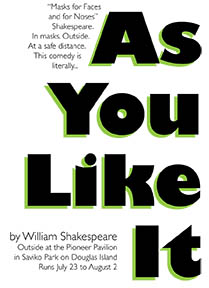 by William Shakespeare


Directed by Aaron Elmore
OUTDOORS Jul. 23rd - Aug. 2nd, 2020
Our first pandemic play!
Did you know the play that contains ''All the world's a stage!''
has several thousand other lines? Come enjoy them!
No tickets
Donations gratefully accepted at the ''door.''
Outside
Pioneer Pavilion in Savikko Park near Treadwell Arena.
Performances may be (totally were) cancelled without notice due to extreme weather conditions
(join our mailing list)
.
Masks
All performers and audience members wore masks.
Distancing
Households were set in designated locations 10 feet apart.
Folks brought their own chairs and umbrellas.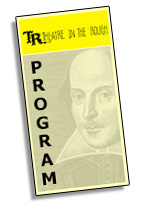 [Actors were in the pavilion. Audience seated in field in household groups in marked locations
10 feet from each other and, since there was emphasis on projection, a full 20 feet from the stage. Everyone
was required to wear masks, including actors. Rehearsals were also masked and properly distanced (sometimes via Zoom).
Staging included ample space between even the lovers. Overall plan reviewed and approved by CBJ. Folks bringing
giant tents to sit under please set up near the back of the field to not obstruct sightlines.
"We will only do this if it can be done safely, and that depends on you"!
Thank you.]