Theatre in the Rough productions are produced, directed, designed, performed and managed by people
who work full time at something else. We are students, officers of the court, lawyers, graphic designers, computer gurus, one or
two ne'er-do-wells, and more. As such, in an attempt to make our efforts sustainable and to keep the quality of our work high,
we only produce about two shows a year. Sometimes we do more, sometimes less.
~Opening soon~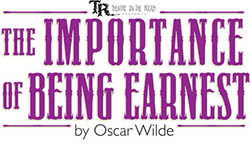 by Oscar Wilde

Directed by Aaron Elmore
Runs Nov. 29th - Dec.15th
-Think Downton Abbey where no one dies! One of this brilliant playwright's most popular plays,
this non-stop, laugh-out-loud favorite will fill the holidays with the vital importance of Being Earnest.
Free Previews: Monday, Nov. 25th, and Wednesday, Nov. 27th, curtains at 7:30 PM.
Opens: Friday, Nov. 29th curtain at 7:30 PM
Closes: Sunday, Dec. 15th at curtain 2:00 PM.
Runs Wednesday to Saturday evenings:
Nov. 29th, 30th,
Dec. 4th, 5th, 6th, 7th,
11th, 12th, 13th, 14th
-curtains at 7:30 PM.
Sunday Matinees
:
Dec. 8th & 15th curtains at 2:00 PM.
Tickets are available at the JACC, Hearthside, at the door even when sold-out online, and right here: