Theatre in the Rough productions are produced, directed, designed, performed and managed by people
who work full time at something else. We are students, officers of the court, lawyers, graphic designers, computer gurus, one or
two ne'er-do-wells, and more. As such, in an attempt to make our efforts sustainable and to keep the quality of our work high,
we only produce about two shows a year. Sometimes we do more, sometimes less.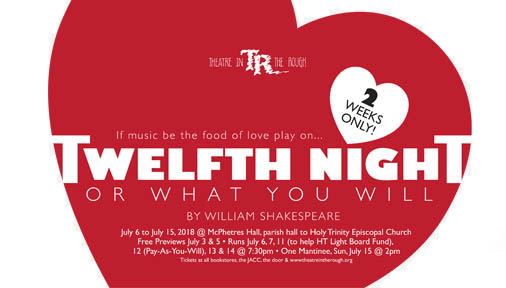 by William Shakespeare

Directed by Aaron Elmore
at McPhetres Hall, Parish Hall to Holy Trinity Episcopal Church
4th and Gold, downtown
July 6-20 (just two weeks!), 2018
Shipwrecked. Broke. Unemployed.
Idea!
Cross-dress.
-New job.
New hot boss is hot for local princess.
She can't stand him.
First assignment: convince princess to fall for hot boss.
Hot boss.
Definitely. Do not let princess fall for you.
...Uh oh.
Join Theatre in the Rough for this utterly charming musical classic comedy about love, honesty, survival,
and the achievement of personal goals through cross-dressing.

Free Previews: Tuesday, July 3rd and Thursday, July 5th, at 7:30 PM.
Opens: Friday, July 6th at 7:30 PM -- Closes: Friday, July 20th at 7:30 PM.
Runs: July 6th, 7th, 11th, 12th, 13th, 14th, 18th, 19th & 20th at 7:30 PM.
Pay-as-you-will: July 12th at 7:30 PM.
Matinee
: Sunday, July 15th at 2:00 PM.
Tickets are available at the JACC, Hearthside, Rainy Day Books, at the door, and online
Curtain times are listed. Please arrive early enough to park and settle.